Welcome to La Noce
The vinegar factory
The acetaia (vinegar factory) produces the original Traditional Balsamic Vinegar of Modena, according to the old method, and is entirely open to visitors. During visits we offer tastings of vinegars of various vintages. The shop is available for the sale of Balsamic Vinegar and other products like Honey with Vinegar, Saba, sauces and jams of our production.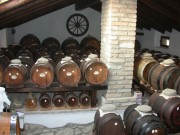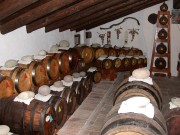 The suite
We have a nice and very comfortable suite for who want to pass one or more night in our ancient mill in the quiet of our place. The suite is 40 sqm with satellite TV, heating and air-conditioning, refrigerator, Illy coffee and private bathroom. The price is very affordable and can accommodate a family of up to four people.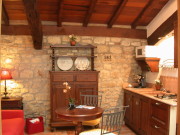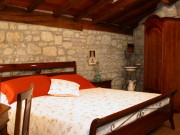 Other interesting points
Being close to Maranello, you can also visit the Ferrari museum and we are in contact with Parmigiano-Reggiano cheese, ham or sausage for a visit in production environments.
We address an eno-gastronomic tourism thanks to the excellent taste of vinegar, our products with Saba, Giorgio Muzzarelli the professional wine sommelier and the historic restaurant business.
We are available to create customized offers, just drop us an email at info@lanoce.it.
The restaurant - CLOSED
We had a historical and qualified restaurant for five generations, recognized as one of the best in the province in Modena, close to Maranello.
The fireplace was always on and provided a homely feel to the restaurant. Ivanna was in the kitchen preparing traditional dishes with mushrooms, truffle, the special Balsamic Vinegar of Modena and other local products.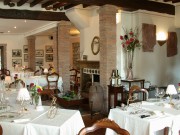 ---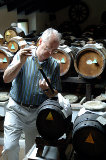 Contacts
Ristorante-Acetaia La Noce
Via Giardini Nord, 9764
41028 Montagnana di Serramazzoni (MO)
Tel. +39 (0)536 957174
Fax. +39 (0)536 1852035
Email info@lanoce.it
How to reach us
Directions to reach Montagnana (province of Modena):
arrive at Maranello CENTER. Drive 7 km along the road on Via Giardini towards Serramazzoni.
The "La Noce" restaurant is the first house on the left after the milepost Montagnana. The reserved parking is on the right.
Often the navigation systems do not show the right way for us, so we strongly advise against using them.
The vinegar factory, the museum of rural culture and the hall of the courses are located in front of the restaurant.
Where we are