---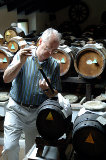 Contacts
Ristorante-Acetaia La Noce
Via Giardini Nord, 9764
41028 Montagnana di Serramazzoni (MO)
Tel. +39 (0)536 957174
Fax. +39 (0)536 1852035
Email info@lanoce.it
How to reach us
Directions to reach Montagnana (province of Modena):
arrive at Maranello CENTER. Drive 7 km along the road on Via Giardini towards Serramazzoni.
The "La Noce" restaurant is the first house on the left after the milepost Montagnana. The reserved parking is on the right.
Often the navigation systems do not show the right way for us, so we strongly advise against using them.
The vinegar factory, the museum of rural culture and the hall of the courses are located in front of the restaurant.
Where we are